FNC Entertainment's newest male group, P1Harmony, kicked off their US tour, officially named the P1 US Stage H, back on March 11th in New York. Two months later, the six-person group would wrap up their musical journey in San Jose, CA.
As fate had it, their last stop would be in my area.
When I heard that P1Harmony was coming to town, I had several friends that were into them. Although I've knew about them, I wanted to learn more where all this P1Harmony hype was coming from and how they amassed a sizable fan base in the US.
I would travel to the mean streets of San Jose to attend their concert. By mean streets, I mean the nice area of the San Jose Civic center in downtown San Jose. Armed with some cameras, some coffee, and a press badge, curiosity of concert organizer Subkulture Entertainment (thank you SubK!), I was ready for all the screaming that would ensue.
Or so I thought.
With a throng of fans lined outside the San Jose Civic center, I already knew that this concert was going to get crazy. Calling themselves P1ECES, these P1Harmony fans were excited to see one of their favorite groups off before they head back to Korea.
After the horde of P1ECES were allowed inside the concert venue, the show started soon after. P1Harmony's fans let me know right away that they were loved. Since the concert venue was more tightly packed, the sound in the venue was more concentrated and had no room to spread out. This meant any sound at a normal concert was amplified by 2x more at the P1Harmony event.
While my poor eardrums were ringing at the end of the concert, it was well-worth going to the event.
Throughout the concert, there were the usual cheering and "I love you" to various members of the group. There was also laughing and dancing to the music.
Yet, in an interesting twist, fans also did barking sounds, a new trend I noticed at US K-pop events to support their group. Color me surprised when I heard barking as the new chants at K-pop concerts.
Frontman Keeho was one of the highlights of the show. "Are you having fun?" he shouted to the audience after the group's first three songs were finished. His energy to kick things off was infectious, as it would set the tone for the rest of the concert.
Growing up in Canada, Keeho's fluent English would appoint him as the main MC of the show. He would joke around with the audience in English and ask his bandmates questions in both English and Korean. Jiung also impressed with his English during the concert, as I found out from my research that he studied the language intensively during his middle school and high school years. Intuk grew up in New Zealand for a short while, speaking mostly in English. The rest of the members also tried to speak English as well, showing that P1Harmony practiced their English in preparation for this US tour.
Their performances had a lot of energy, with some polished dancing and energetic moves. Their sound is K-pop with some shades of hip-hop and R&B mixed in. Bangers such as "Siren," "Do It Like This," and "Scared" were played with fans bopping their heads in approval. When the group took a poll which song was their favorite, the San Jose crowd roared with "Do It Like This."
In between their performances, the group got the audience involved in various games. We did the wave three times, practice a "when I say this, you do this" segment in anticipation for an upcoming song, and find out who about to graduate from high school and who is currently going to college. Keeho asking the audience about graduating was aptly appropriate.
After all, this would be P1Harmony's last concert on their US tour and would be graduating from their tour, as the same would be high school students graduating from their high school.
The concert also had two videos during intermission showing the origins of the group's fan name, P1ECES, as well as showing the fun side of the group. One of the videos would show them practicing and asking each member what their fanbase means to them. The members would respond that the P1ECES mean everything to them
At about the hour and a half mark, Keeho would announce, "this will be our final song" before performing their last act. Yet, after their song was over and the lights turned off, fans were expecting an encore performance, to which the group came out to perform minutes later.
What wasn't expected wasn't an encore, as that's very normal for K-pop concerts to do. Rather, P1Harmony did a triple encore, giving fans even more time with the group and the concert going past the two hour expected concert length. As the members said, "this is our last stop! San Jose, we don't want to stop," the fans screamed back in approval that they wanted the concert to go longer.
Once the concert's third encore finally ended, a long time formed for the VIPs to take pictures with the group. I went outside to interview the P1ECES to understand the group's hype and how they amassed so many fans in just a year and a half. Nearly every fan said that it's the group's interaction and how much they care for their fans. Some said that they got into P1Harmony through friends or randomly finding their MVs on YouTube. All of them wanted to see where P1Harmony would go in the future.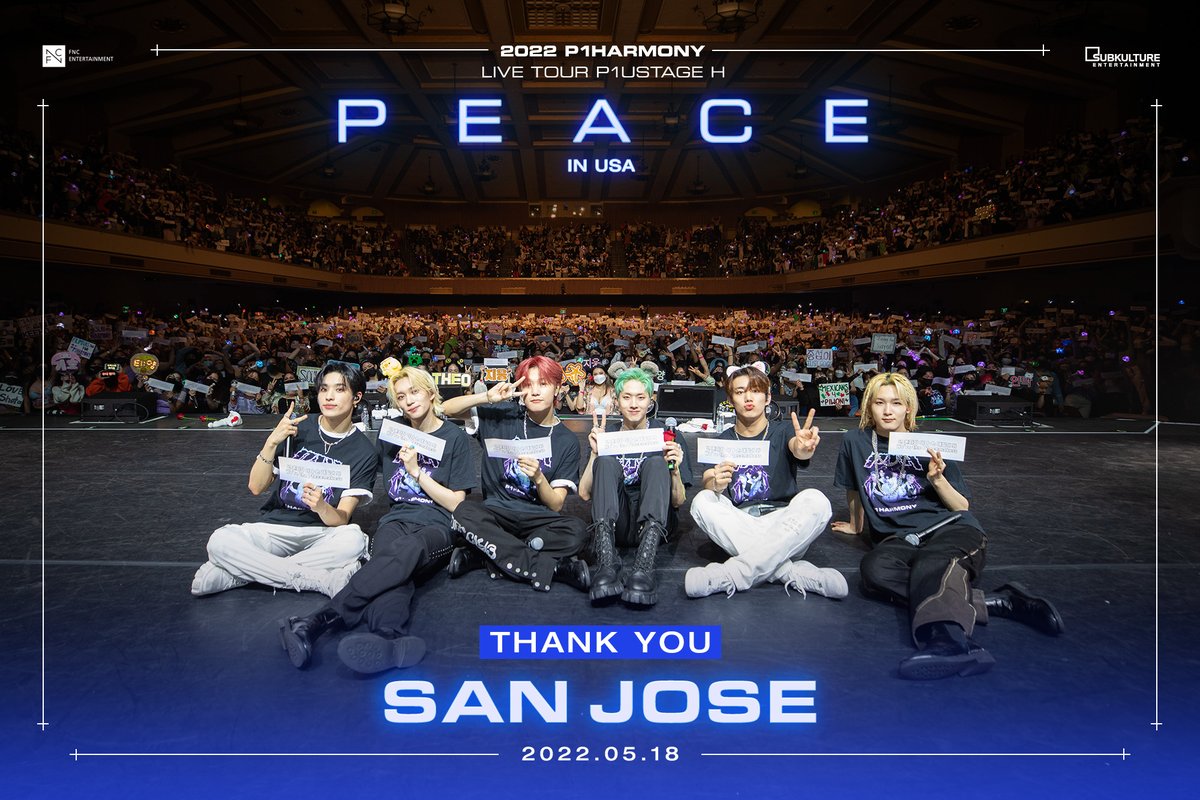 My thoughts after the concert: I see where the hype of P1Harmony is coming from. The group is only in their second full year, they have some bangers, and they're all quite personable and provide ample fan service. Add how many English speakers they have in the group and they're well poised to do well in the US in the future.
For P1ECES, they know this won't be the last time P1Harmony will be in US shores.
—-
A special thanks to Subkulture Entertainment for inviting us as press and covering this event.